Welcome, readers and listeners!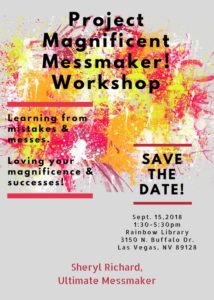 This blog is about my experience with the save the date announcement for my forthcoming Project Magnificent Messmaker! Workshop taking place this coming Fall on September 15th. I attempted to do the announcement on my own, starting off wanting it to reflect the essence of simplicity as well as the beauty in mess-making (imperfection). Instead, the result was an appearance that my beloved Coach Kate said looks like a postcard! My initial perception of her response was that is was a bit pristine, although that is not at all what she meant. As difficult as it was to hear that, I knew the real deal. I sent the announcement to her because I had gone overboard, and it did not convey the intended message. I looked at it and saw anything other than a MESSage. It was a picture of crisp, shear perfection! I had already cleaned the MESS right out of my MESSage! How Dare Sheryl!
I called my friend, Ann-Marie, to sit in the muck with me because I was so frustrated with myself. I've planned and facilitated many events for which I created various forms of announcements. I didn't understand why this was any different. One thing I have learned is that, no matter how well we know or can do something, there may come a time when we are less creative, less productive, and nicely botch up the simplest of tasks!
Ann-Marie was very calm, reassuring, and willing to help save me from myself… to help me get over myself and get on with it! I could hear the smile in her voice as she chuckled and tried to help me calm down, which she successfully did. Praise God! I asked for her assistance with the announcement because I had a full day and didn't want to further delay. I shared the effect I desire of the flyer, which is a simple save the date notice. She laughed and commented about needing to help me to make a mess! I confirmed my need for her help with making a mess, hence relinquishing my inner control gremlin that insisted on perfection. The struggle was real, so I asked for help.
I went to the Internet and looked at simple save the date announcements, which reminded me of my initial intention. I was okay after that and knowing that, with help, I would soon have an announcement I want to share. As simple as this sounds, it was quite an experience for me and a little shocking for Ann-Marie!
Another lesson I've learned (or confirmed) is the beauty of relationships and having others to help us in time of need and through our own nonsense. Yet, another lesson is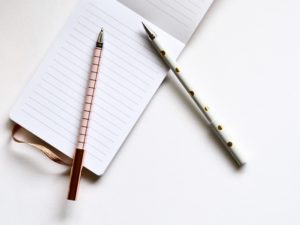 the benefit of immediate note-taking or journaling and voice recording! These are powerful tools for reflection. Reading what I've written here has helped me to grasp what transpired. I had taken what started off as a super simple task and made it unnecessarily difficult by 'not so discretely' trying to hide any hint of imperfection. Have you ever done that?
I am reminded of the Triple Threat:
Transparency. Transformation. Transition.
What's that all about? It's about accepting that God is gracious and, therefore, extending self-grace that provides for our openness to inevitable, ongoing change in life. I talked about self-grace in my previous blogs, What's in a Vision and Vision Garden. Know that sustainable change takes time and is worth the self-investment. Likewise, the Triple Threat is about overcoming obstacles; courageously acknowledging, embracing, and applying what we learn from our mistakes and messes such that we continually grow rather than allowing them to keep us from pursuing the wonderful opportunities and experiences awaiting us. This is empowering!
My desire is that my message and what I share are simple, practical, and effective. Thankfully, this MESSage is already proving to be helpful as I was able to go through the day more calmly, creatively, flexibly, and productively knowing I will 'fail' safely into success as I put one foot in front of the other. In doing so, I continue along the path God has for me and accomplishing what He has set before me in service to Him and others. How can I be sure of this? I know that God is with us in MESSES and SUCCESSES. Both are necessary aspects of our Divine processes.
Lovingly & Faithfully Me, Sheryl